When Life Gives You Lemongrass…Boost Your Health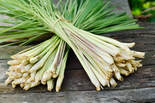 Reap medicinal benefits from one of nature's remedies! Lemongrass, which is one of the primary ingredients in 
Edye's Natural's NEW Deep Nourishing Serum
, has a somewhat mystical medical history that heals a variety of maladies. Certified doctor of natural medicine, chiropractor and clinical nutritionist, Dr. Josh Axe, explains on his website 
draxe.com
 that lemongrass is an herb that produces oil with a lemony smell and earthy undertones, which is stimulating, balancing, relaxing and soothing.
Often used in many cosmetic products and soaps, lemongrass essential oil is a natural deodorizer known to have antifungal, antiseptic, and anti-inflammatory properties. It is even used as an insect repellant! According to an article in 
Better Nutrition
 magazine (June 2001) in ayurvedic medicine it is used to treat coughs and nasal congestion. It also cites an interesting study by Ben Gurion University in Israel, which indicated that in vitro, 
citral
, the active ingredient in lemongrass, caused the death of cancer cells while leaving normal cells untouched. That is an eyebrow raising finding!
Lemongrass may also prevent the growth of some bacteria and yeast, containing antioxidant elements can be used for a variety of maladies. Some of the benefits of lemongrass essential oil include:
Relief of anxiety, irritability, and insomnia
Improved blood circulation and relief of muscle spasms, aches, and cramps
Detoxification of digestive tract, liver, kidneys, bladder, and pancreas
Treatment of stomach pains, nausea, diarrhea, and menstrual cramps
Prevention of infections
Fever and inflammation reduction
Use products like 
Edye's Deep Nourishing Serum
to enjoy the natural and healing benefits of lemongrass on your skin in combination with our other products.