The Healing Benefits Of Apricot Kernel Oil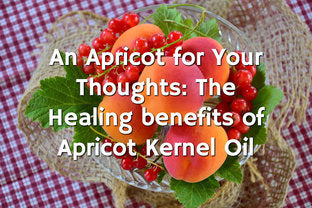 An Apricot for Your Thoughts: The Healing benefits of Apricot Kernel Oil
In China, the apricot is associated with medicine and has been used in traditional medicinal techniques for decades. After eating these delicious fruits, the seeds (or kernels) can be made into a light oil that has many uses.  Apricot kernel oil is generally safe to use topically. But always be absolutely sure that the oil product you buy has been processed to remove harmful substances naturally found in apricot kernels. 
Apricot kernel oil has many uses, including as an:
Emollient
Anti-inflammatory
Anti-aging
Anti-bacterial
Anti-septic
Antioxidant
For the skin
With its anti-inflammatory and soothing emollient properties, apricot kernel oil is soothing on sensitive skin and leaves it soft and smooth. Used as a massage oil or after shower moisturizer, it penetrates deeply into the skin for long lasting moisturizing. As a carrier oil, it works well when absorbing other essential oils or herbs.
Apricot kernel oil can also be used to reduce dark circles and puffiness around the eyes, strengthening the skin and healing under eye areas. With regular application, it can also reduce the appearance of fine lines, wrinkles and other skin blemishes.
For the hair
When applied to the hair, apricot kernel oil helps detangle hair and reduces dry scalp problems, helping to achieve luscious shiny hair without any greasiness. With the nutrients in it, including Vitamin E, it softens and conditions the hair to make it more manageable on a daily basis.
For the heart
If consumed, apricot kernel oil can improve the health of your heart and cardiovascular system. It may even lower the risk of heart attack. Use apricot kernel oil as a salad dressing or an ingredient in your favorite recipes to see full benefits.
Remember to always treat your skin, body and heart with care by using products with only all natural, organic ingredients like 
Edye's Peppermint Skin Repair
, which contains organic apricot kernel oil which is cold-pressed and unrefined, making it more deep in color.