Olive Oil - Staple or Luxury?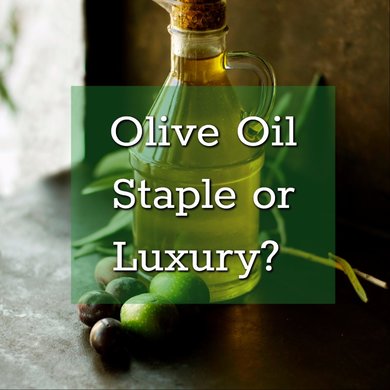 Olive oil is a staple in many domestic and commercial kitchens around the world, which makes for a bit of a problem when prices rise unexpectedly. Unfortunately, recent poor harvests are leading to just that as wholesale prices are 
due to jump by as much as 20 percent
 this year. Extreme heat, bacterial outbreaks, and severe flooding have impacted crop yields throughout the Mediterranean, resulting in costs that keep rising.
While the ultimate price increases will depend on several factors, Italy and Spain, the world's largest producers, will be hit hardest. Difficult weather and the threat of pests mean that anyone looking for quality olive oil or products containing it can anticipate spending a bit more than usual in the months ahead. The U.S. alone accounts for 10 percent of the yearly consumption, so we can certainly expect a big impact in the health and beauty markets as businesses adjust.
China's Interest in the Health Benefits of Olive Oil Increases Demand Too
According to recent data available, since 2006 to 2012 the average proportion of imported olive oil has been keeping the increases nearly 30% per year in China. Today, the Chinese market is in its adjustment stage along with the Chinese economy and politics, but, the Olive industry is expected to continue to grow in the years ahead. More than 250 olive oil brands are present in the Chinese olive oil market, nearly 100% of the import comes import from Greece, Spain, Turkey, Italy, Portugal, Australia and Argentina. This demand is causing prices to rise across the world.
Italian olive oil is more vulnerable than the oils produced in other climates due to its varied topography. While the diverse terrain lends to unique flavors and more than 400 olive varieties, it also produces major climate shifts and numerous pests that make the olives more difficult to protect compared with Spain or other countries.
Despite these changes, pure, organic ingredients remain as important as ever as staples in your diet and beauty routine. 
Edye's Naturals
 remains committed to included the organic and natural source ingredients treat your body well.
Olive Oil Buying Tips:
I always make my own salad dressing with organic extra virgin olive oil, vinegar and spices. It tastes better and I know that it has healthy oils in it. Did you ever look at the oils used in grocery store salad dressing?
One advantage to olive oil is that it is cold pressed. Cold pressed is important since the other way of separating oil from the plant is with a chemical process that is not healthy. When shopping look for "cold pressed" on the label. All organic oils must be cold pressed. Some alternatives to olive oil are sunflower oil, avocado oil, coconut oil, safflower oil, and walnut oil. Those oils have a higher smoke point than extra virgin olive oil, so are better for cooking at higher temperatures.
Check out this is a 
handy chart 
from fix.com 
https://www.fix.com/blog/which-cooking-oil-to-use/ 
with information on smoke temperatures.