Interested In CBD? Here's What You Need To Know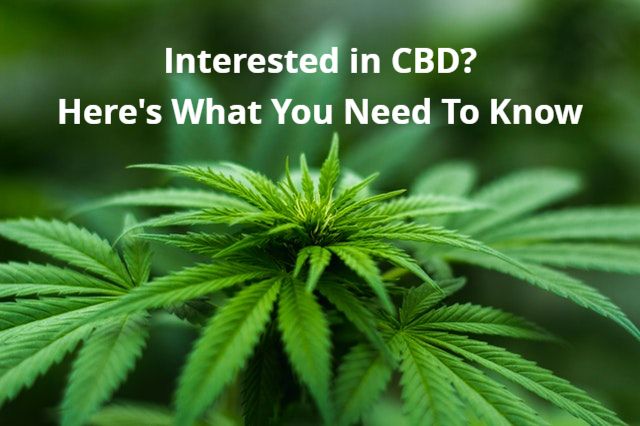 The interest in CBD has sky-rocketed.  In fact, it is one of the fastest growing industries of the year 2019.  With all the hype, companies are eager to get their products to market. The important thing to note is that not all these products offer the quality you pay for.  As with any industry, there are high-quality products, low-quality products, and everything in between.  
Unfortunately, the herbal product industry has a reputation for adulteration (altered product), contamination, and mislabeling.  A 2017 study published by researchers at Johns Hopkins School of Medicine and University of Pennsylvania Perelman School of Medicine found that more than two-thirds of CBD products purchased online were mislabeled, containing more CBD than listed, less, or even none.  The tests also found more THC than was listed on the label.  
Testing of CBD, as with any herbal product, is important to ensure quality and that you are getting the plant you think you are paying for.  In some cases, low-quality CBD products contain unsafe synthetics and ingredients which can jeopardize your health. 
So, how do you know what to look for?  Look to see if the CBD product you are interested in has been tested by a third-party lab.  If the product has been tested, the results should be easily found on the website (there should be nothing for the company to hide).  The truth is that without a lab report, there is no way to confirm if the product is what it claims to be, or even that it is safe. If you cannot find a lab report online, sometimes you can contact the company to send you a report.  
When looking at a lab report, there are several things to focus upon.  Look to see if the lab is accredited with the International Organization for Standardization (ISO); this is the typical standard for the cannabis industry.  Look for current reports, the more recent the better. One key thing to look for in the report is if the product is free of contaminants, such as heavy metals or molds; if you see "Pass" under the "Status" column, you will know that it meets the safety standards, if you see "Fail", do not buy the product.  
You want to buy what you pay for, so also review the report to see if the cannabinoid content listed on the product label matches that of the lab findings.  
The main reason that people are looking to use CBD is for its health benefits, so it is vital that you pay attention to the rest of the ingredients in the CBD product you are looking to purchase.  If you see ingredients that you are not familiar with, research the ingredients yourself to determine if it is something you would want to ingest. Quality products will use all natural and organic ingredients.  
CBD is derived from hemp.  As with any other herb or food, knowing the source of the CBD informs you of the quality.  Ask the company where the hemp was grown and what cultivation processes were used. Ideally the company selling CBD owns a hemp farm, giving them more control over quality from the start.  
Another idea is to consider shopping at a dispensary.  If you live in a state which has legalized marijuana, buying CBD at the dispensary is smart as the marijuana industry has clearer standards of testing than hemp-based products.  Just tell the salesperson that you would like a product with no or very low THC levels.  
One company, who has third-party testing and sources hemp from American farms using organic growing methods, is MyDailyChoice.  If you are interested in using a quality CBD product for yourself or selling it to friends, Edye recommends MyDailyChoice https://www.mydailychoice.com/Edye.  Edye suggests sticking to the purer forms of CBD (avoid the chocolates and creams). Another company, Anandahemp, was also highly recommended to Edye.  You can take a look for yourself at their offerings here: https://anandahemp.com/.

Edye has experimented with adding CBD to her products and found that it did not improve them, and doing so would also raise the price.  If you are looking for an alternative to CBD to improve your skin, Edyes Vegan Deep Nourishing Serum uses a blend of oils, which together have synergistic effects.  The first ingredients are Organic Avocado Oil and Organic Camellia Oil, which are wonderful for helping build collagen. It also contains lemongrass with other organic ingredients. With this hydrating organic formula, younger, firmer-looking skin is well within reach, as it penetrates deep into the skin's surface to deliver our super-concentrated combination of vitamin and antioxidant rich oils. Diminish lines and wrinkles, reduce dark spots, even skin tone, and improve firmness, texture, and radiance by improving the health of your skin with Edyes Vegan Deep Nourishing Serum.