4 Ways Eating Healthier Can Improve Your Skin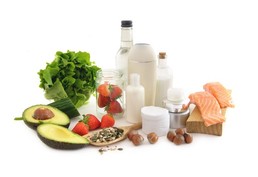 According to medical experts and research, certain foods have powerhouse ingredients that keep skin supple and smooth and help fight age-related damage. You already know that filling your diet with power foods—like dark leafy greens, dark chocolate, citrus—can help beat chronic conditions like heart disease and diabetes. But did you know that certain foods and liquids can also work wonders on your skin? Here are some helpful tips to maintain healthier skin from the inside out:

​
Fruits
Silica promotes healthy bones and natural teeth, and has also been found to hydrate skin and help elasticity. Silica can be found in many fruits, especially in the peels. Oranges, strawberries, and grapefruits also contain Vitamin C, which helps with the formation of collagen, keeping the skin firm. Avocados are a great source of vitamins C, E, and monounsaturated fats, which help skin retain moisture, making it supple and smooth.

Vegetables
Spinach and other leafy greens are packed with essential supplements like iron, Omega-4 fatty acids, and Vitamins A, B, and E. These phytochemicals and folates hydrate skin and improve your immune system to keep you looking and feeling healthy.  Foods rich in carotene, like carrots, sweet potatoes, butternut squash, and pumpkin, also help repair skin damage.

Fish
Many fish types are high in Omega-3 fatty acids, which limit water loss in skin cells.  Add luster and softness to your complexion by feasting on salmon, a fish with one of the richest concentrations of omega-3 fatty acids. These healthy fats nourish the skin by reducing the body's production of inflammatory substances, decreasing clogged pores, and averting fine lines and wrinkles. Olive oil, nuts, seeds, and avocados are also rich in Omega-3 fatty acids and soften the appearance of wrinkles and boost your skin's ability to regenerate.

Water
Staying hydrated is key to getting rid of waste and toxins, which can make otherwise healthy skin appear dull. Include berries or cucumber slices for a sweet twist as you hydrate! Many fruits are high in water content, so stock up on melons, apples, and oranges.
Organic foods are always better for your skin, as processed foods contain many unrecognizable chemicals that can affect your skin's natural balance. Remember Edye's Naturals products contain only the best organic ingredients  (which happen to be edible too) to help unleash the power of organic healing for healthier skin. Source: Prevention, Health Magazine